GENEVA, SWITZERLAND - Renowned blockchain news media ZyCrypto recently published an article titled "Justin Sun Is Showing up Everywhere—from Crypto to Politics and Beyond". According to the article, this self-made start-up entrepreneur and billionaire not only tried to inspire Warren Buffett's enthusiasm about cryptocurrency but placed a big-screen ad in Time Square to boost the industry's confidence against a sluggish crypto market.
The article went on to explain Sun's political achievements, pointing to his diplomatic identity as the Ambassador and Permanent Representative of Grenada to the World Trade Organization (WTO), where he encouraged international cooperation in digital technology by utilizing his experience in the blockchain industry. Sun is showing up everywhere—and whether in the world of politics or crypto, he is always able to be a surprise.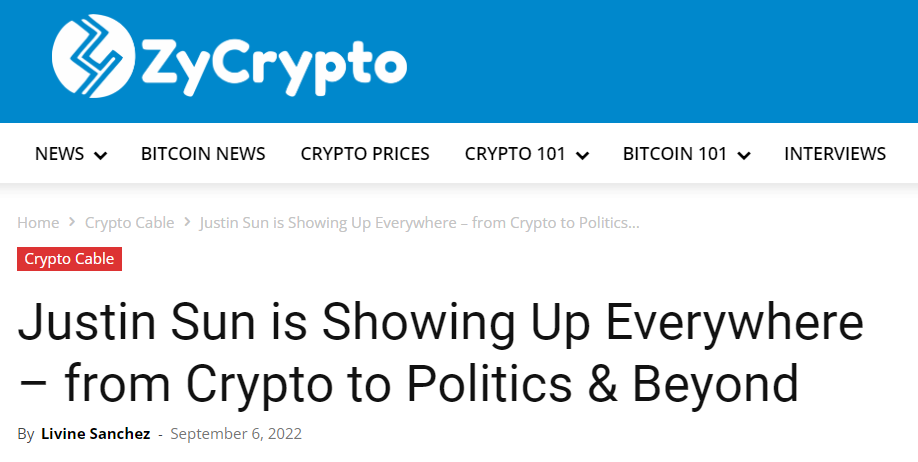 The following is the full text of the report:
Justin Sun is Showing Up Everywhere from Crypto to Politics & Beyond
The 32-year-old creator, a self-made billionaire, founded the TRON blockchain and has acquired traditional and NFT works of art totalling more than $100 million last year alone.
While Sun was well-known in the crypto community beforehand, he came to the public's attention in 2019 after winning a $4.6 million bid at a charity auction to dine with Warren Buffett. In an effort to convert the renowned value investor to a cryptocurrency enthusiast. He reportedly presented Buffett with a variety of cryptocurrencies, including a Bitcoin.
USDD in Time Square
A campaign for the USDD stablecoin was recently launched by Justin Sun on the big screen in Times Square in New York. Experts predict a campaign like this may increase confidence in the midst of the present bear market.
One of the most recent stablecoins released on the TRON blockchain is USDD, also known as the Decentralized USD. It is an algorithmic stablecoin that operates on the TRON network and is distributed as a TRC token. This is comparable to other algorithmic stablecoins, including Frax Finance (FRAX) and TerraUSD (UST).
The newly created and fully transparent TRON DAO Reserve will manage and secure the funds behind the USDD. The DAO will allow the USDD stablecoin to remain pegged to the US dollar, regardless of any fluctuations in the market. USDD will remain immune to market disruption thanks to its decentralized USD algorithm.
The first decentralized, over-collateralized stablecoin in existence is USDD, which has a collateralization rate of more than 130%. This makes USDD a highly secure decentralized stablecoin.
Since the introduction of USDD, DeFi and other DApps in the TRON ecosystem have expanded. According to DeFiLlama, the biggest DeFi TVL aggregator in the world, TRON has surpassed BSC ($5.28 billion).
Entering Politics
The World Trade Organization retains Justin Sun as its new ambassador since Grenada's Ministry of Foreign Affairs appointed him last year (WTO). Grenada is an important member of the Organization of Eastern Caribbean States (OECS), the CARICOM Single Market and Economy (CSME), and the Caribbean Community (CARICOM) (OECS).
Sun seeks to assist Grenada in modernizing its economy by drawing on his experience in the blockchain industry. He plays a significant role in Grenada's economic development by encouraging international cooperation that can assist Grenada in developing its economy and implementing digital technology. His objective is to spearhead the nation's digital transformation and make long-lasting improvements to the island country's economy.
What's Next?
There never seems to be a dull moment for Justin Sun, and with so many spinning plates, one can't help but wonder where we will see him next!
Contact:
Name: Jessica ZHANG
E-mail: jessicazhangmedia@gmail.com